International travel is (finally) back on the agenda and to celebrate we've teamed up with the good folks at qatarairways to cure the ultimate travel itineraries to start living the good life again!
When it comes to planning your next vacation in Europe, the first dream destination that comes to mind is undoubtedly Italy. Steeped in culture, postcard-perfect villages, sparkling azure beaches, amazing restaurants and more, this country is pure material worthy of a to-do list. You do not know where to start ? We've selected our four favorite Italian cities to explore.
Book this annual leave and lock your flights gang, these are the best places to visit in Italy right now.
Rome
We start with the Italian city that everyone knows best – and for good reason – it's truly breathtaking. If you've never been to Italy before, you can easily make Rome your first port of call via a stopover in Doha with qatarairways. The capital is full of historical gems that will leave you speechless. Think: the Colosseum, the Spanish Steps, the Pantheon and the Trevi Fountain (all must-sees). And let's not forget that Rome also has a whole state to explore: Vatican City. But, what makes this town so special (and the reason why people return time and time again) is that it also manages to ooze the charm of a small Italian village with its cobbled streets, restaurants on the sidewalks, intimate trattorias and hidden courtyards. rub shoulders with thousand-year-old churches. Pro tip: For a pure fairytale feel, visit Quartiere Coppedè, a secret gem tucked away in the Trieste neighborhood. Unknown to most tourists, this special place features a frenzy of architectural styles ranging from Ancient Greece and Roman Baroque to Art Nouveau. We're talking details like exterior hanging chandeliers and endless mosaics and frescoes. Rome is also home to a vibrant aperitif scene. So expect to spend a lot of time sipping Aperols. Our favorites include Minerva Roof Garden (which has 16 types of martinis on the menu) and Il Goccetto, a Roman institution that serves 30 different wines by the glass. You know the saying, do as the Romans do…
Venice
Capital of the Veneto region in northern Italy, Venice has to be one of the most beautiful cities in the world. Brimming with romance and charm, a trip to Italy isn't complete without a visit here. Filled with colorful Venetian Gothic buildings, sprawling squares teeming with market stalls, artists and trattorias and of course, ornate bridges framing their famous canals, the entire city looks like a movie set. For a real pinch me moment you can't do not start a trip here without taking a ride along the said beautiful canals. There are regular water taxis that will take you from point A to point B but for something a bit special you can organize a gondola which includes an aperitif or two on board. Yes, it's more expensive, but consider the potential content of Tiktok. Another Venice must-do is to take the time to explore the famous Rialto Markets. Here you will find stalls offering the freshest dishes in Venice. Their specialty is seafood, so the fishmongers are where you'll want to head, there's also pasta, fruit and veg as well as leather goods and cashmere. Nearby you'll find All'Arco, a small hole-in-the-wall restaurant known for its mouth-watering cicchetti (bar snacks) and wine. Think charcuterie, pickled vegetables, cheese and creamed cod (a local favorite) all placed on slices of crusty bread. There are only three tables inside, so you're likely to devour your treats on the cobbles with the rest of Venice, but that's part of the experience. Finally, be sure to take a vaporetto (water bus) to Murano Island. Only 40 minutes by car, it's the perfect day trip. Colorful buildings have to be seen IRL to be believed.
Milano
Italy's fashion capital, Milan, boasts breathtaking architecture, award-winning restaurants and, of course, one of the best shopping experiences in the world. This bustling cosmopolitan city is a two-part story. Here you'll find historic delights like the Duomo, Santa Maria delle Grazie and Sforzesco Castle sits side by side with a modern skyline. The result? Pure magic. After visiting the aforementioned sites, head to the Navigli district. Made hundreds of years ago with the help of Leonardo da Vinci, you'll see Milan's incredible interconnected canal systems lined with bars, restaurants and cafes. Pro tip: Come here at sunset and stop at La Vineria for an aperitivo and cheese. For a slightly less touristy area, check out Isola. Once cut off from Milan, this terribly cool hood is packed with vibrant street art, creative spaces, hidden galleries and public art installations. Cultivate yourself with a night at the 18th-century Teatro alla Scala, one of Europe's most beautiful and ornate opera houses, bathed in red and gold. Those looking for their fashion fix should head to the "Golden Triangle", an area that includes Via della Spiga, Via Sant'Andrea and Via Montenapoleone which are home to Prada, Versace, Armani, Chanel and Louis Vuitton. In the evening, eat at some of Milan's best restaurants (Langosteria, Dongiò and Piz are our favourites) before heading to the city's famous Tunnel Club. Housed in an old railway shed beneath Central Station, this place has been serving up beats and good times since the early 90s. The best part? You can make your dream adventure in Milan a reality with qatarairways direct flight to Milan via a stopover in Doha.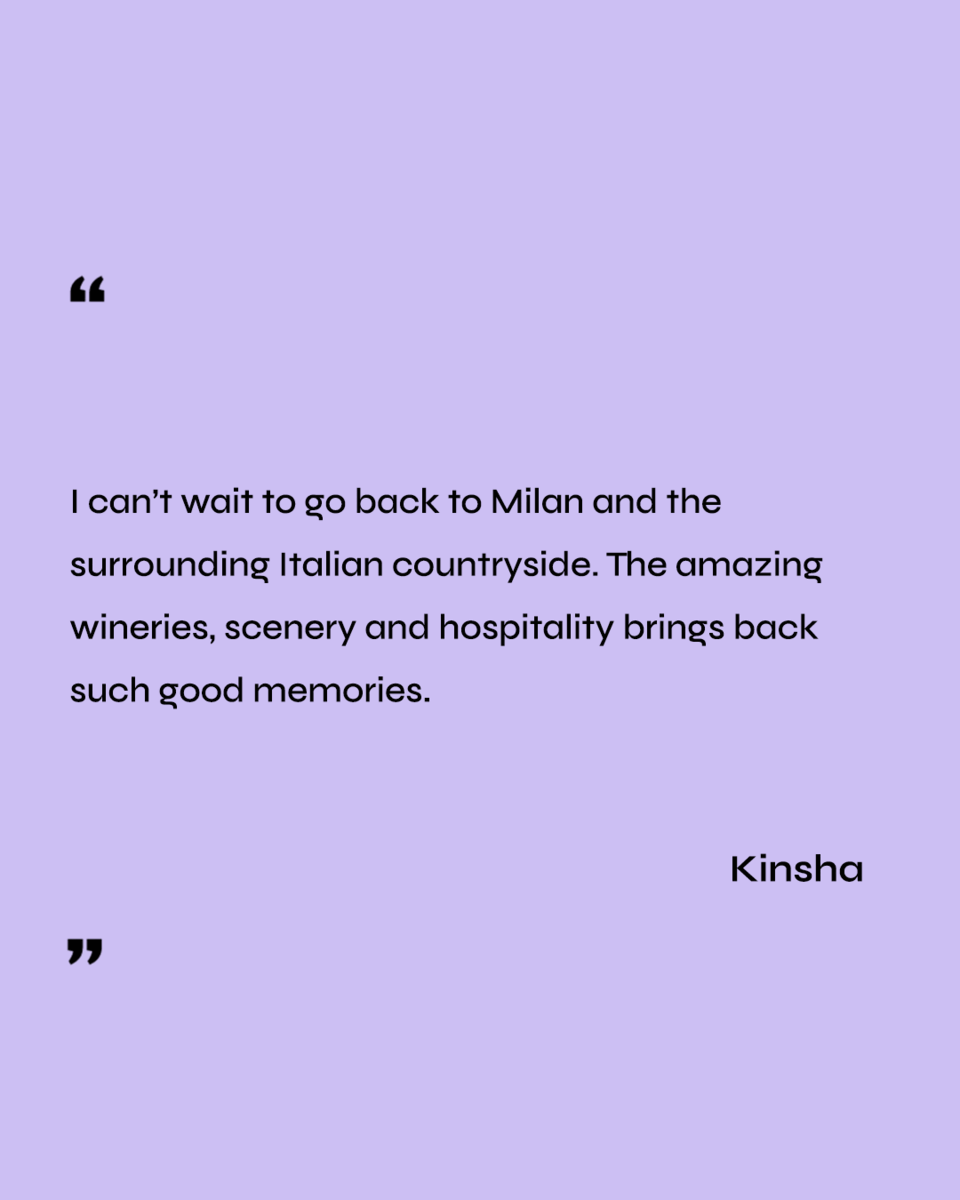 Florence
This terracotta-hued city is one of the most vibrant places in Italy. Housing the statue of David, Santa Maria del Fiore and the Uffizi, the capital of Tuscany is known as one of the greatest art cities in Europe. Non-negotiable museums and monuments to visit during your visit obviously include the aforementioned places, but you should also add Palazzo Vecchio, Stibbert Museum and Cappelle Medicee to your hit list. For incredible views of the city, head to Piazzale Michelangelo, where you'll enjoy sweeping views of Florence, including the Duomo and Arnolfo Tower. This city is also home to fresh produce and stellar markets. Top of your to-do list is Mercato Centrale, where you'll find two stories of absolute foodie heaven. On the first floor, you'll find stalls brimming with cheeses, oils, meats, fruits, and wines. While the upstairs food court will see you gorging on slices of pizza so thin you'll have to bend them in half, bowls of delicate melt-in-your-mouth pasta and towering scoops of gelato. Check the news feed from Piazza Santo Spirito in Oltrarno. A local favourite, you'll find it bustling with street markets in the morning, but when the sun goes down the bars and restaurants that line the square come alive. If you want to see a spectacular sunset, head to the balcony of the Palazzo Guadagni hotel for a cocktail. Do you see a pattern here?
It's official. Italy is the crème de la crème of dream European getaways. Head toward qatarairways to start planning your Italian summer with flights to Florence, Rome, Milan and Venice, with a stopover in Doha.
Editor's note: This article is sponsored by qatarairways and proudly endorsed by Urban List. To find out more about who we work for and why read our editorial policy here.